Hey all! Welcome back to The Hogue Connection! This week I'd like to take a peek at some of the fun features found in WikiTree. WikiTree is The Free Family Tree that was started online in 2008. It now has 27,604,869 profiles managed by 828,396 genealogists worldwide. They have enhanced privacy and security controls to preserve this tree forever.
One of the things I like about WikiTree is they way they control the way profile managers to build their individual trees. You wouldn't be able to upload your 10,000 person GEDCOM file directly, for instance. Any added profile must be verified so as not to create duplicates. They want one world tree and they want it as accurate as possible. Genealogists work together to verify everything, much unlike the tree at FamilySearch.org. The LDS site allows folks to change their tree without confirmation. In other words, it's your word against another contributor's. I traced my Jackson line back to a family of 29 children. This cannot be correct, obviously, but it's still there on the LDS world tree!
Fun Feature #1
The Relationship Finder makes it fun to see if you are a relative of someone famous. I receive a weekly Family News email from WikiTree. Often they will send a list of famous people, either celebrities or historical figures, with a link you can click on to see your connection. One week, I found I was connected (by degrees…I'll explain that in a minute) to country music star Hiram "Hank" Williams (17 Sep 1923-1 Jan 1953). After a little bit of digging, I found that Hank is my sixth cousin, twice removed. Our shared ancestor is my seventh great grandmother, Ann Braswell Strickland (1675-1744). I've written a few songs, but nothing like "Hey Good Lookin'", "Jambalaya", or "I Saw The Light"!
Fun Feature #2
The Connection Finder is also a fun tool. This finder shows your connection to another person via "degrees", kind of like the "Six Degrees From Kevin Bacon" parlor game. On my WikiTree Family News of June 30, it listed a link saying I was 17 degrees from Benjamin Franklin, 14 degrees from John Hancock, and 17 degrees from Thomas Jefferson. Here's how the connection to Ben looks: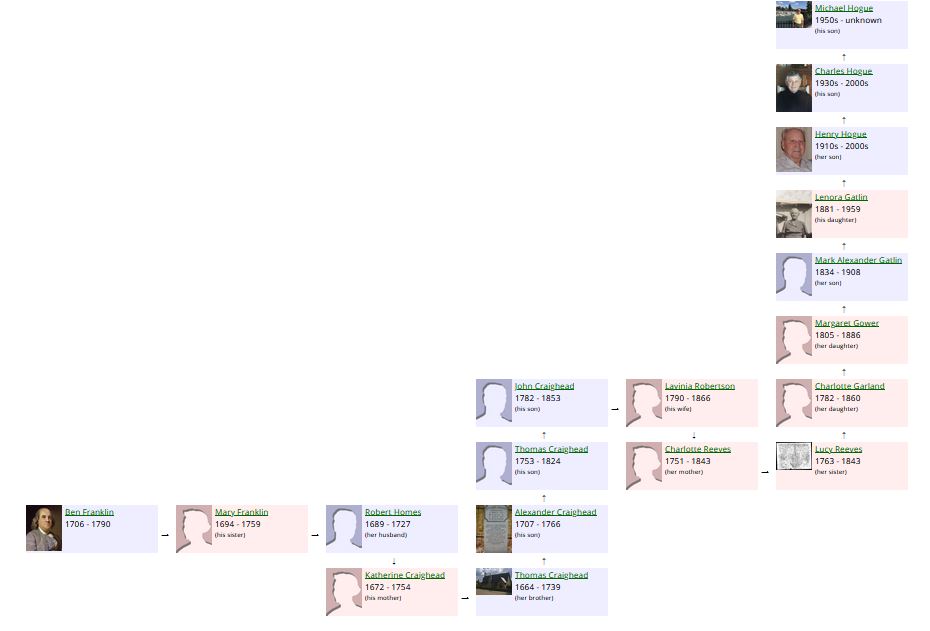 WikiTree has many other tools like this to make building your family tree fun! Check it out and make a connection with my tree. Remember to add only a few profiles at a time to make the duplicate vetting process easier.
What? Me On A Podcast?
It's true! This Tuesday, July 27, at 7:00 AM PST, I'll be a phone guest on the podcast "The Mysteries of Family Histories" with my cousin Sheri Marengo. She has a weekly radio show on a station out of Waynesboro, MS, not too far from the homeland of our Creek Warrior Hopoie, who we share as an ancestor. We'll be discussing our Native American roots. If you go to http://www.broomclosetstudios.net and scroll down a bit on her page, you'll see the link to the podcast. I'm not sure if you can listen live or if it's tape delayed. Hopefully you can track it down and I don't stink!
Thanks for visiting my blog here at The Hogue Connection! You can return to the Home Page here.