Hey everybody! Welcome back to The Hogue Connection! Today I'd like to post a memorial to all of our ancestors buried in the Gower Cemetery in Nashville, Tennessee. If you recall, I discussed our history with the Gower family in a previous post, "I Am Not My Own Grandpa". You can read that one again here. Once again, I'll tap into the resource of FindAGrave to list our relatives there.
Back in the first week of November, I was contacted by one of our cousins who read the same article. Her name is Marsha Fagnani and she is a resident of California with connections to the Nashville area. She is the Co-chair of The Gower Cemetery Restoration and Maintenance Project, which, since early 2017, has been restoring and documenting this important part of our family history.
About Gower Cemetery
The Gower Cemetery on Gower Road is located in the still, mostly rural community in the West
Nashville/Bellevue area off of River Road near Overall Creek. Here's a link to the Google Map of the area. The cemetery was established by the Reverend William Gower on the land near his chapel that he built in 1805. The first burial there was his mother, Obedience Blakely Gower, who passed away in April of 1816. The cemetery is now remains on a half acre parcel adjacent to the Centenary United Methodist Church.
Using a respected local archeologist, most of the restoration was completed in 2018 with 125 burials identified. These burials include Nashville First Settlers, early citizens, a Revolutionary War Veteran, 3 Civil War Veterans, and 6 enslaved African Americans. FindAGrave lists 75 of these memorials, which you can view here. Abel Gower and his son Abel Gower, Jr., who died at the incident at Clover Bottom, are mentioned in this listing, but their bodies were never found.
My Kin in the Gower Cemetery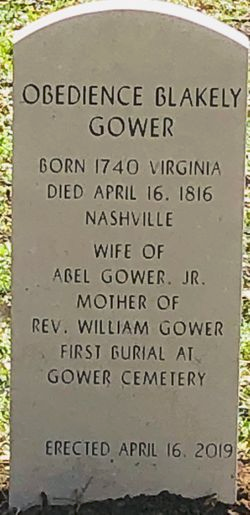 This brand new marker was part of the restoration. Obedience is my 5th Great Grandmother and the wife of Abel Gower, Jr. She was one of the original pioneers of Nashville, TN. From my previous article mentioned above, you'll remember that this part of our tree is short a few branches. I will leave out the "cousin" relationships of these ancestors and stick to the main connection. For instance, John McNairy Gatlin is also my 2nd cousin, five times removed! Here's the list:
Rev. William E. Gower (26 Oct 1776 – 11 Oct 1851) 4th Great Grandfather, son of Obedience and Abel, Jr
Charlotte Garland Gower (1 Jul 1782 – 16 Apr 1860) 4th Great Grandmother, wife of William
Nathan Marion Gatlin (30 Jan 1782 – 8 Mar 1855) 4th Great Grandfather
Obedience Lucas (16 Dec 1787 – 18 Jun 1866) 4th Great Grandmother, wife of Nathan
John McNairy Gatlin (22 Dec 1803 – 3 Sep 1852) 3rd Great Grandfather
Margaret "Peggy" Gower Gatlin (14 Apr 1805 – 3 Sep 1886) 3rd Great Grandmother, wife of John
Lorenzo Dow Gower (27 Sep 1803 – 11 Jul 1892) 3rd Great Grand Uncle, brother of Peggy
Nancy Lucas Gatlin (19 Mar 1805 – 7 Oct 1885, 3rd Great Grand Aunt, wife of Lorenzo, daughter of John and Peggy
A Missed Opportunity
I've visited Nashville twice, but I wasn't in the genealogy mode. We were there to attend The Americana Music Festival. So, I got to go to the Ryman Auditorium and Country Music Hall Of Fame, but didn't go visit my ancestors in the Gower Cemetery. I guess I need to kick myself twice! Rest assured I'll check it out the next trip.
Many thanks to Marsha Fagnani and her co-chair Jana Stephenson (also a cousin) for their help in restoring this historic Nashville cemetery. If you'd like to investigate further, visit her group Facebook page here. She also sent me a more in depth article on the preservation of Gower Cemetery and biographies of Obedience Blakely Gower, Andrew Lucas, Sr., and Nancy Gower Lucas. Andrew and Nancy aren't buried here, but were important pioneers of the area. If you'd like copies of these articles, please contact me via The Hogue Connection and I will forward them along in an email.
Thanks for visiting The Hogue Connection! You can return to the Home page here.