Hey all, and welcome back to the Hogue Connection! I've talked a lot about DNA and it's importance to the study of genealogy in this space. Today, I'd like to share my ethnicity results with you all so you can see how fun this part of our hobby can be. I imagine my heritage is very similar to yours. Hopefully by looking at mine, it will encourage you to get your test done!
It's All Relative
I'll start by talking about a book I just finished by A.J. Jacobs called "It's all Relative". The book, written in 2017, is a hilarious (but factual) look at A.J.'s journey into the branches of his family tree. It also chronicles his attempt to break the Guinness World Record for the largest family reunion, which, at the time, was 2,585 people. Over the course of the book, the number changed, but you'll have to read it to see if he broke the record.
He talks about many subjects regarding genealogy like, y-Adam and x-Eve, Black Sheep, Our Animal Cousins, Family Feuds, and whether or not the family, as we know it, should be abolished completely. It also gives you a nice way to start your own family tree and gives you plenty of accurate sources to use in that endeavor. I'm not getting paid for this, but I highly recommend this book. You can probably get it at your local library or from A.J.'s Amazon author page here.
Back to My Ethnicity Results via DNA…
Here's the report from Ancestry.com…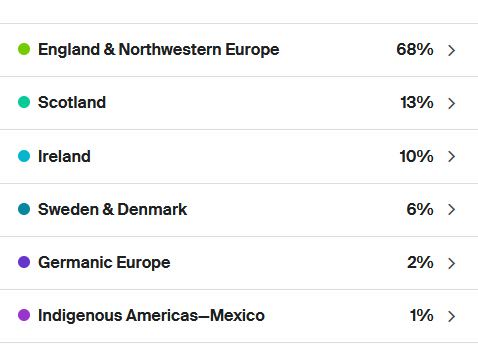 Remember that Millions of folks have chosen to get their DNA tested. Around 26 million test kits were sold in 2018, and the number of testers out there was expected to grow to 100 million in just two years. That's a lot of saliva moving through the U.S. Mail system. With all of these tests being done, the worldwide database of DNA results is growing fast. My group of if DNA relatives across four platforms (Ancestry, 23andMe, Family Tree DNA, and GEDMatch) is made up of about 80,000 people! That's why the idea of a one world family tree like the one you find at WikiTree makes a lot of sense.
Since humans share over 99% of their DNA, we are all likely to be cousins somewhere down the line. By the way, we share 50% of our DNA with bananas. It's complicated. Although these tests are not 100% accurate, they are pretty close to that, especially as they compare you to your closer relatives. In other words, they have a better chance of identifying a first cousin as opposed to a 5th or 8th cousin. The breakdown above is not the entire picture of my ethnicity, however.
This Report Isn't All You Need…
Genealogy helps present a much clearer picture of where we come from. As you know, I've been involved in amateur genealogy since the middle 1980's. Luckily, I was able to talk to my grandparents and their cousins and started to build our family tree based on the information I compiled. While I haven't made every connection to these places listed above, I have a pretty good idea of where my ancestors lived in the 18th century, before the American Revolutionary War. Most all of them were here in the British Colonies.
These people are, more specifically, my fifth great-grandparents, or my great-great-great-great-great grandparents. At this level, everyone has 128 ancestors. Do I know who all of them are? No. Not yet anyway. I'm pretty good up to the third great-grandparent level, though. This will be different for you, especially if you are just starting out.
For example, When our first grandchild, Eloise was born, in 2017, I did a little project involving a comparison of the heritages of her new grandparents, Jerry and Jo, Jane, and me. I started by listing each of our great-great grandparents and their countries of origin. That's 16 ancestors for each of us; these folks are Eloise's third great grandparents. Here's what I found…All of Jerry's 16 great grandparents were born in Europe. Of Jane's, 5 were born in Europe and 11 were born in the United States. All 16 of mine were born here. All 16 of Jo's were born in LOUISIANA!
This is My Ethnicity, But, We Need Those Family Trees!
The DNA ethnicity estimate seems to be what most people crave when they submit their saliva for testing. To me, the stories about my ancestor's more recent history is far more important. I have enjoyed collecting my family history over the years. I also enjoy connecting and collaborating with my cousins out there. Those types of connections are rare for me. Not once has anyone from Ancestry contacted me about my private tree I have on that site. It seems that many of my DNA relatives are better referred to as DNA "tourists" as I have talked about before. I have connected with a few cousins, though, like Ray Warthen and his siblings from my Gatlin line, Ben Curtis through my Larner line, and Garold Murray, all via 23andMe. Oh yes, and you, too, Eddie!
Please join the ever-growing crowd and get your DNA tested! Just remember that we need your family tree posted on the test site (whichever service you pick), too. It makes it easier for us to see how you are related, which should be the point I think. Thanks for coming back to The Hogue Connection today and checking out my ethnicity results . Next up, look for another post about a criminal in the family. You can return to the Home page here.