Hello again and welcome back to The Hogue Connection. BGT Stop #1? I know, strange title! We are going to extend my last post with a deeper dive into our trip back to my family homeland. We'll begin with BGT (Braves and Graves Tour…as per our friend Betsy) Stop #1 in the area of Eton, Murray County, Georgia. For a map of the whole route, click here. This is the old homestead of my fourth great grandfather, Julius Bates (1780-1864) and his family. Let's start with a closer look at maps of the area:
The location shown on the right map is the site of the original Julius Bates farmhouse. The address here is 699 Loughridge Road, Crandall, GA. The star to the left of Hwy 411 is the site of his grave and a small family cemetery. We stopped in this area around noon on Friday, 18 Aug 2023.
I got some of the info for Julius' bio from a couple of newspaper articles I found. Also, the registration form used to add this area of north Georgia, known as Pleasant Valley, into the National Register of Historic Places, was helpful. If you would like to download a PDF of that application, go here. I also got some information from a website that was started by Richard Bates, who passed away in 2002. This website has not been updated in many years and will disappear into RootsWeb (owned by Ancestry) soon. I also looked at many existing family trees in various spots on the web.
The Life of Julius Bates…
Julius was born 3 Jun 1780 in Greenville, SC. There are many guesses as to his parentage, and I continue to dig for the right answer. He married Temperance West around 1802 and headed west to Hall County, Georgia. Julius and Temperance had anywhere from 10 to 17 children, depending on who has it right. They lived in Hall county before settling in Pleasant Valley in 1838. Along with his brother, John Bates, Julius acquired many acres of land from one of the original settlers, David Westfield. Westfield received about 2800 acres during the Cherokee Land Lottery of 1832, the year Murray County was formed. He sold 2400 of them to Julius and John, who started farming the area immediately.
On the land was a two room log cabin that was apparently built in 1836 by Julius and his brother. That would have been difficult considering they got to the area in 1838. Perhaps they scouted it out earlier. Anyway, the Bates families grew in this area, and they farmed for over 20 years. In addition to livestock, the Bates' grew the popular crops of day…wheat, corn, oats, and potatoes. An in-depth history of the area can be found here.
The Bates-Loughridge Homesite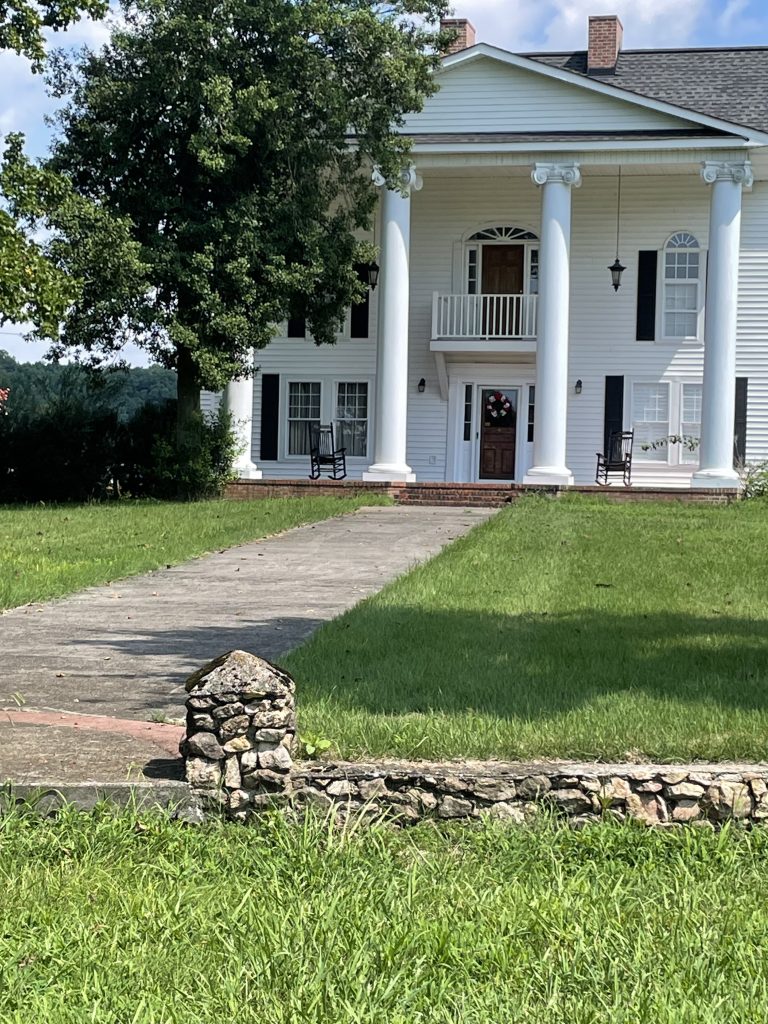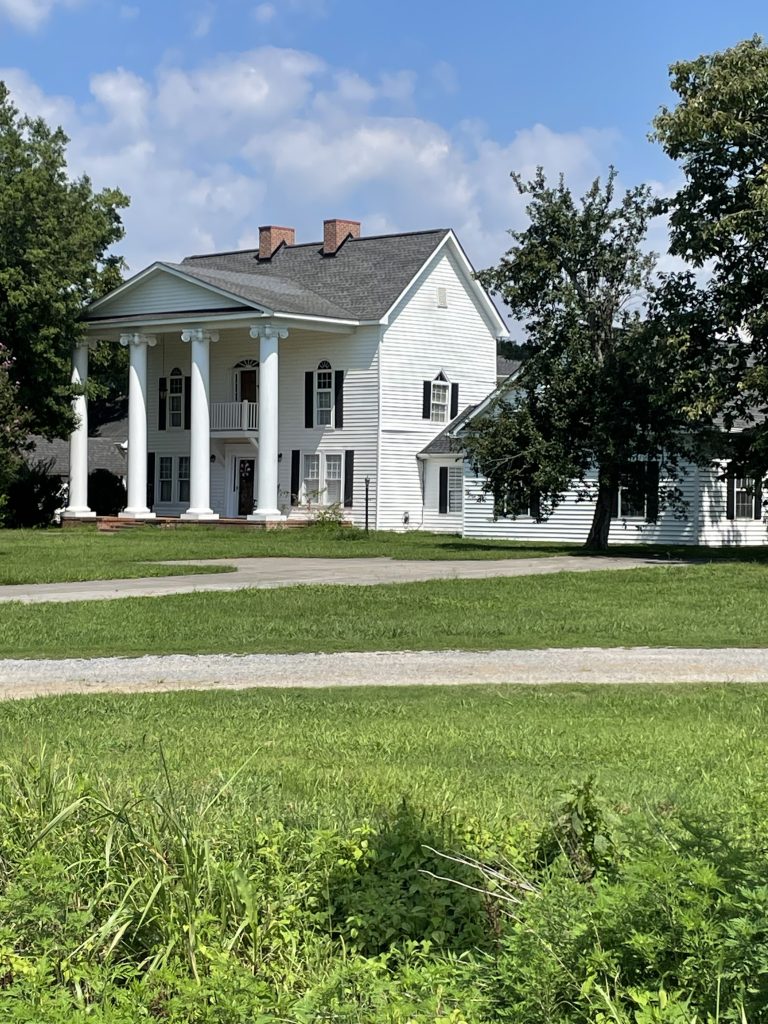 The original two-room log cabin is now part of this plantation style home. The second floor was added in 1870 when the Loughridge family purchased the property after Temperance had passed away in 1868. In the 1880's a barn was built along with a smokehouse. Today, the property is part of the Pleasant Valley Poultry Company and is near about 15 chicken barns, long metal buildings that measure about 40 feet by 500 feet. We didn't notice any chickens running around when we were there. Most of the barn doors were open. I could smell them, though!
The Julius Bates Cemetery
Researching the location of this cemetery was fun! Many of the email addresses linked to people who knew the location of it were defunct. Fortunately, someone on FindAGrave had included the GPS coordinates of Julius' grave. Using that, and a combination of Google Maps and Google Earth Pro, I was able to come up with an approximation of the cemetery. Here is the satellite view: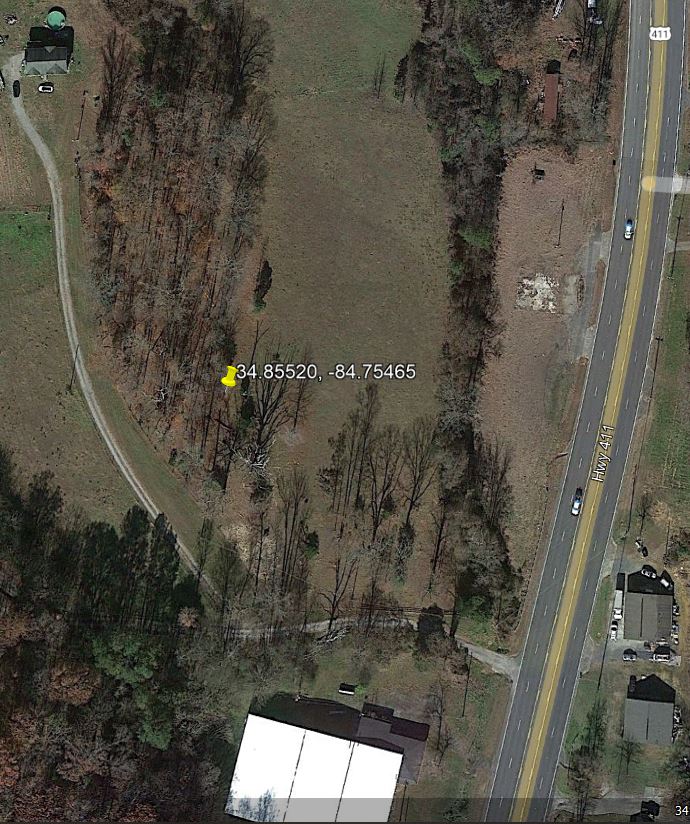 We turned into the dirt road and immediately saw some smaller homes and a bunch of fences with locked gates. we couldn't find anyone around to ask, and I didn't feel comfortable stomping around on private property without permission. I had been in contact with a Family Search contributor, who just happens to be my fourth cousin, once removed. Unfortunately, I didn't read her reply message in time, but she had visited the cemetery, back in 2019, and was able to get the necessary permissions. She also took this awesome picture, and agreed to let me post it here: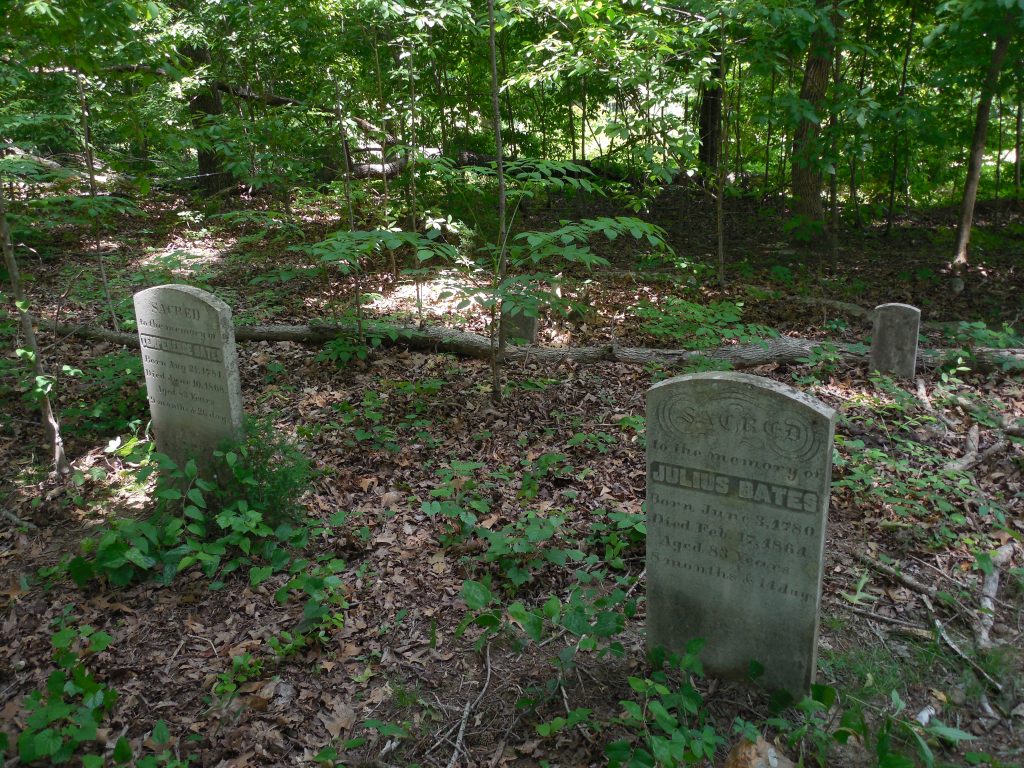 So, many thanks JohnsonReb! I doubt I could have taken a better photo myself.
As you can see, this is a very small cemetery. Only about four graves have been identified, but there are several unmarked burials here, including my third great grandfather, Andrew Jackson Bates, father of Mary Jane Bates, second wife of William M. Hogue.
BGT Stop #1 Ends
So, we headed south on 411 towards Atlanta. First we stopped by the Murray County Courthouse, built in 1916, which sits on a hill in Chatsworth. Chatsworth had the lowest temperature ever recorded in Georgia, -17 degrees in 1940. Next stop was for lunch at Edna's Restaurant, a local "meat and three". That means you get a hunk of your choice of meat (I had Salisbury Steak) and three sides. I couldn't pass up the fried okra! Luckily, I was able to make it to the hotel before I had any stomach distress. It was a lot of food! Reasonably priced, too.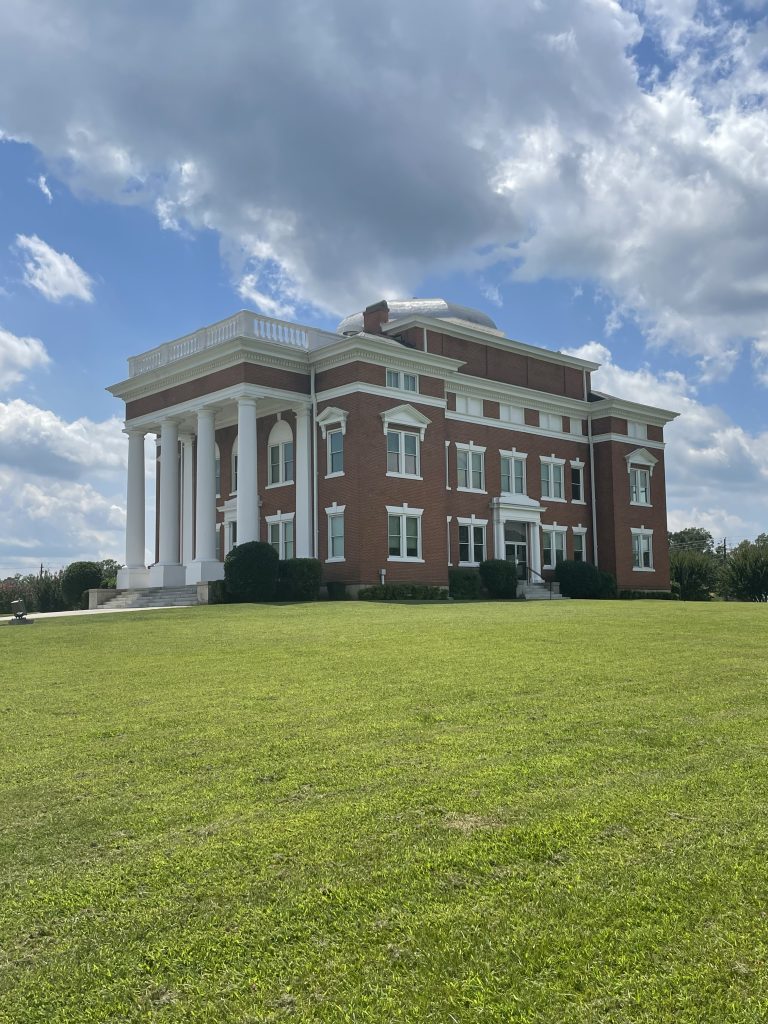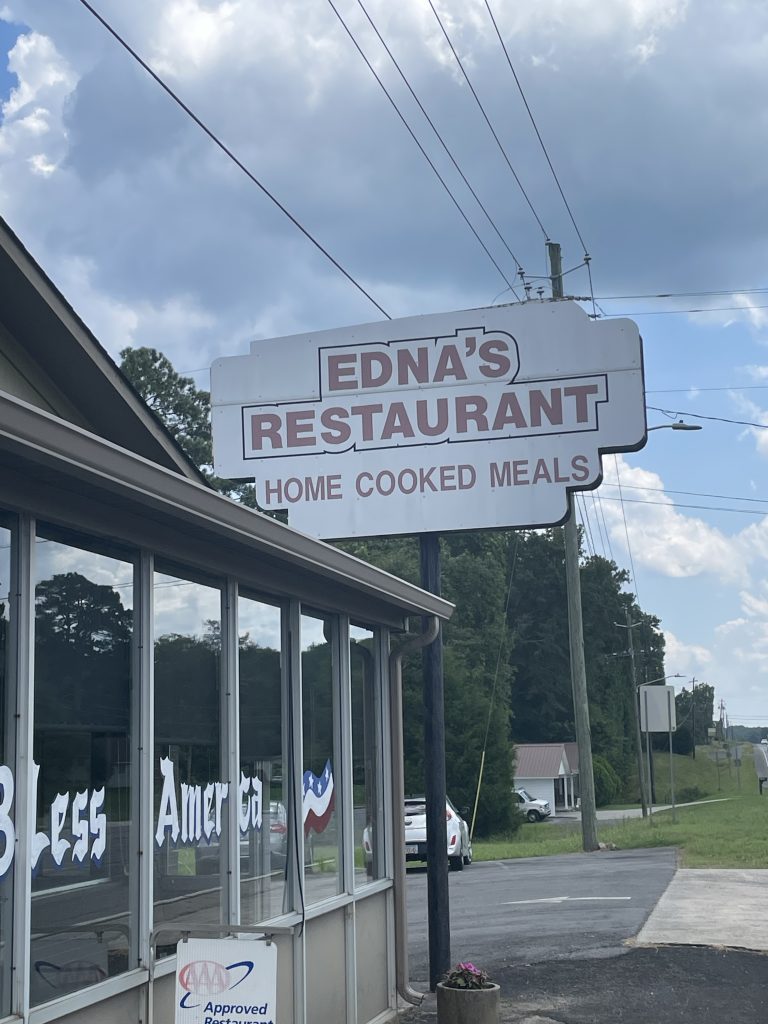 Well, that about wraps up this part of the trip. Although we couldn't visit the cemetery, it was nice seeing this former Hogue/Bates homeland. We learned a lot about this part of Georgia. I already mentioned that the game didn't really go my way, so we'll skip on to BGT Stop #3 on my next post. Thanks for visiting The Hogue Connection! You can return to the Home page here.